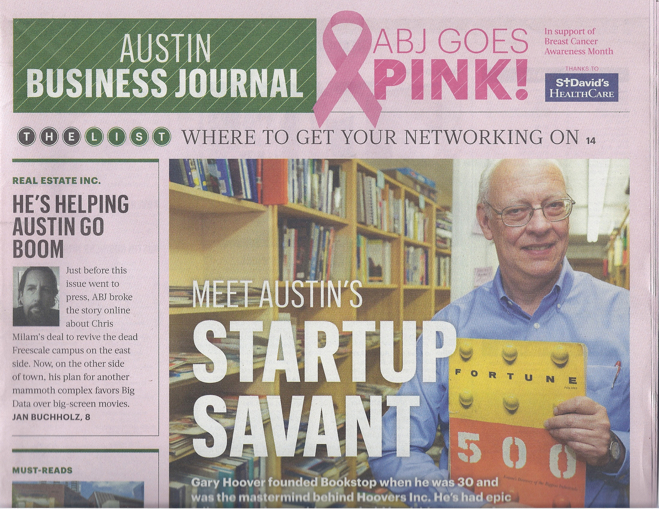 Gary Hoover's 4 hour intensive workshop in entrepreneurial thinking for students of all ages
Or:
Everything about Entrepreneurship that They Don't Teach in School
"Like drinking from a fire hydrant"
(For more customer comments on his courses, see the bottom of this email.)
To get a taste of Gary's thinking, check out this recent interview on Mixergy!
 http://mixergy.com/interviews/bookstop-gary-hoover/
And check out www.hooversworld.com
Are you ready to start the new year with new insights?
Makes a great holiday gift!
Who it's for: Any student, from 12 to 112, who is interested in learning about entrepreneurship, changing the world, controlling their own destiny, or becoming an entrepreneur (in the for-profit or non-profit world).  And their friends and parents.  It's not for those who are satisfied, patient, lazy, or those who think they can't have an impact on the world around them.
When: The same class will be repeated twice, Monday December 28 and Wednesday December 30, 2015, from 1 PM to 5 PM.
Where: Acton School of Business, 1404 E. Riverside Drive, Austin, Texas 78741.
Conveniently located in the heart of Austin, this outstanding teaching facility is located on the north side of Riverside just east of Interstate 35.
Price: $79 per student (enrolled or enrolling in junior high, high school, or college, or homeschooled, or 18 or under).  $139 per parent or adult.
Early bird special – register by December 10 and the prices are $50 for students and $100 for adults.
Register here:
http://www.eventbrite.com/e/gary-hoovers-4-hour-intensive-course-in-entrepreneurial-thinking-tickets-19828432375
Make sure and buy a ticket for the right date: Monday or Wednesday.
Seating is limited in this intimate classroom!
Teacher:  Gary Hoover.   Gary became interested in business when he was 12 years old, studied economics at the University of Chicago under 4 future Nobel Prize winners, went on to work on Wall Street picking stocks, head up strategic planning for a multibillion-dollar company, start the nation's first book superstore chain, found the company that became Hoover's and now employs hundreds here in Austin, and found four other startups, once of which failed (plenty of lessons there!).  In recent years he has focused on teaching and helping other entrepreneurs, recently returning from Bogota, Colombia. He was the first Entrepreneur in Residence at the University of Texas McCombs School of Business  and presently serves in that role at UT's top-rated graduate School of Information.
He has over 320 new ideas for businesses, and comes up with more all the time.  He has reviewed thousands of business plans over the years.  He especially loves working with young people and helping them sort out the challenges of thinking like an entrepreneur.  He also donated stock in his companies to his college, so today there is a Hoover House dormitory at the University of Chicago.  For more on Gary, see  http://hooversworld.com/gary-hoover .
Added benefits:  Each attendee will receive a copy of Gary's book, The Art of Enterprise, in PDF form via email after the class, a $10 value (see http://www.scribd.com/doc/25085990/The-Art-of-Enterprise-by-Gary-Hoover-January-2010 ).
Some of the Key Ideas Covered in the Workshop:
Seeing Yourself:
What is entrepreneurship?
What is an entrepreneur?  Might you be or become One?
It's about you and it's about others, serving others and serving yourself.
Entrepreneurship and entrepreneurial thinking applies to for profits and nonprofit, startups and giant companies, even schools and governments …
The importance of passion
The unique journey, there are no formulas or recipes to follow, …
Entrepreneurs are grown, not born
The idea of the yin and yang (s) of entrepreneurship
What is wisdom?
The importance of curiosity, lifelong learning, exploration and discovery
The five ways we learn, key tools for entrepreneurs
Entrepreneurial characteristics and attitudes
Seeing Needs:
Understanding others, seeing opportunities
Find a need and fill it; wants and needs
Understanding others, walking in their shoes, seeing through their eyes
You may also be a customer, getting ideas from your own experiences
There's always a better way of doing things
Seeing trends, seeing the future: demography, aging baby boom, Hispanic America
Industries: it's a service economy
Geography: It's a global world
Learning from the past, studying the great enterprises and their leaders
Thinking in new ways (seeing the big patterns, redefining things, deep innovation, grid thinking)
Making It Happen: 
Turning your idea into an enterprise, your vision into reality
Becoming an expert on your industry and understanding the competition
Importance of a clear vision
Importance of a consistent vision
Importance of a unique vision
Role of business planning
Making up the to do lists, compiling what you need to do when, and what resources you need
Economics of the enterprise ("business model") – how revenue, cost of goods, expenses, and investment relate to each other, the importance of Return on Investment  (even for non profits!)
The importance of productivity/efficiency, conservation of resources
Creative financing
Creative marketing
Creative leadership and organizational culture
What next?
Next steps in your education; other learning opportunities
What books and magazines should you read?
What people say about Gary's classes and teaching:
It was my honor to having you as my teacher and mentor. You won't believe how much your class changed my thinking process as a business owner.  It was almost 15 years since I have taken any classes after my masters.  I have always hesitated to take any class because of my busy life. I had no idea that your class would inspire me so much. – Ashif Mahmud, President/CEO ict Consultants Software Solutions
I have known Gary Hoover for over 20 years. With that background, I can tell you that Gary Hoover is one of the most amazing entrepreneurs and teachers I have ever encountered. He is literally a walking encyclopedia of business history and his story telling is incredible. He is the most prolific reader I have ever met and his ability to not only speed read but retain information is incredible. I consider Gary Hoover one of Austin's most valuable assets and recommend him without reservation. Whether you are a lifetime learner, an aspiring entrepreneur, or an academic, you will find Gary Hoover as one of your truly great resources and your time spent with him among your most memorable. – Jim Nolen, Distinguished Senior Lecturer Emeritus, Department of Finance, McCombs School of Business, University of Texas at Austin
Gary is a truly inspiring speaker and teacher and I highly recommend any of his courses or talks (or even just chatting with him at lunch!) His unique experiences and his genuine, open nature create an ideal atmosphere for the flow of ideas and introspection. Taking his course on Entrepreneurship last fall was the penultimate push towards me finally starting my own business. – Elayne Crain, Entrepreneur
I have recently been going over your class and all the material you have provided and I have to say it is exceptional. Aside from your videos, your book "The Art of Enterprise" is by far one of the most thought provoking books I have read. It has taken me way longer to read than I had anticipated due to me stopping and thinking about every single page. It is great, easy to read, and contains useful information that you cannot find in other books. Thanks for including it along with your awesome class.  – Mario Robles
Gary Hoover is a man of many, many talents, and I respect him dearly.  He is really a genius level business thinker.  You guys are super-lucky to have him as a teacher.  I had a lot of great professors at Wharton and when I attended Wharton it was rated the #1 MBA program 6 years in a row.  And none of them approached Gary's level of knowledge about business history or entrepreneurship. – Brett A. Hurt, founder, Bazaarvoice, Inc. (founded in 2005, IPO in 2012), Hurt Family Investments.
I would highly recommend this entrepreneurship course for anyone toying with the idea of starting a business.  Our class met once a week, and I would find myself so inspired and full of ideas during class that my energy would spill over well into the night. – Taylor Journey, University of Texas undergraduate
If you're thinking about starting a business, I highly recommend taking Gary's class. You will analyze business models and your business curiosity will be heightened. This will help you better interact with vendors and other stakeholders. Most importantly it'll help you understand that although your idea may be unique, similar things have been done and you'll find the places to go to learn why or why not they have succeeded. – Erine Gray, award-winning Social Entrepreneur, founder/CEO Aunt Bertha
I would like to thank you for inspiring me to look at life through the eyes of an entrepreneur. Your class was the most valuable and most enjoyable class I have ever taken. It truly changed my life.  – Tyler Kling, University of Texas at Austin undergraduate student
I've been teaching at the McCombs School of Business since 1989.  I have won every teaching award given by the students.  Gary is one of the most gifted teachers I have ever known.  He knows his subject cold and has a God given gift of being about to reach students in a way that is just awe inspiring.  When you add his passion for teaching and helping people, he is priceless.  – John Doggett, Harvard MBA, Yale JD, Senior Lecturer in Management, McCombs School of Business, University of Texas at Austin
Gary brings to the table both an understanding of the applied aspects on entrepreneurship as well as the ability to teach and engage in intellectual activity around entrepreneurship.  Because he has started companies, he has an understanding of the entrepreneurial process, from idea to market.  Because of his love for scholarship and teaching, he understands how to integrate the practical and the intellectual.  – John Sibley Butler, Professor of Sociology and Business, Director Emeritus of the IC2 Institute and the Herb Kelleher Center for Entrepreneurship, University of Texas at Austin