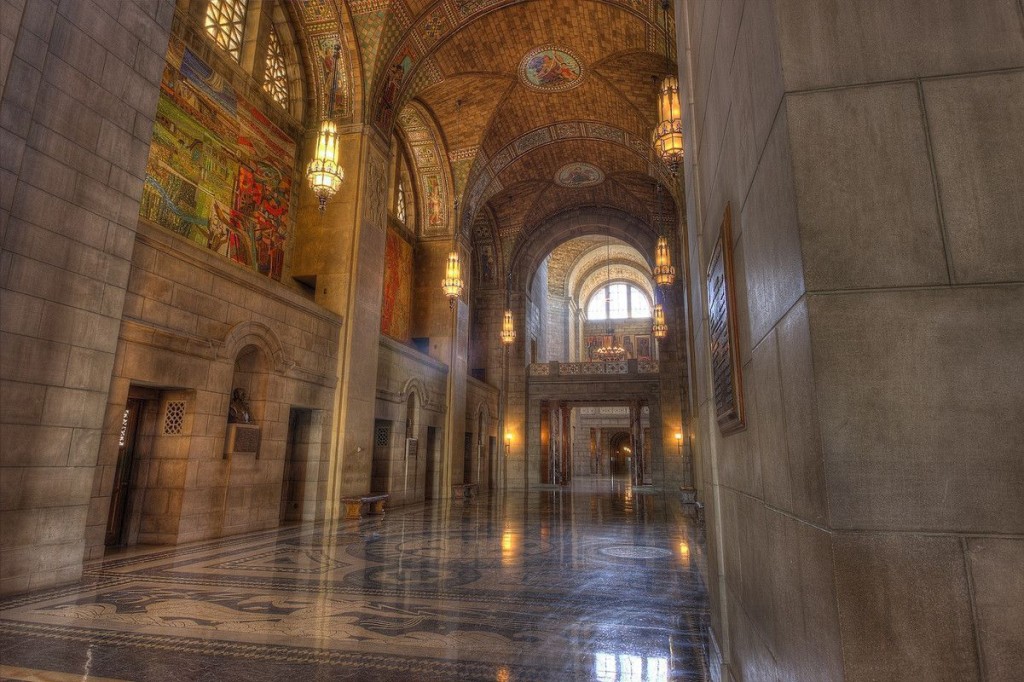 I love cities.  I love great architecture.  Few achievements of mankind are more impressive.  Our "built environment" affects what we see, how and where we live, how we feel, and what we aspire to.
Architecture is one of the great collaborative arts and sciences, alongside such creative tasks as publishing and the creation of films and enterprises.  Some large structures reflect the labor of tens of thousands of men and women.  Everywhere I travel, I marvel at the human initiative expressed in wood and brick, in stone and steel.  We focus much attention to great architecture on the largest and most vertical cities, New York and Chicago.  Nevertheless, the United States is blessed from shore to shore with stunning works of the imagination.  Here I tell the stories – with images – of six of my favorite buildings along with a bit about the people who designed them.
1. Ellicott Square Building, Buffalo, New York 1896
In 1896, architects were just learning how to use steel skeletons for tall buildings, allowing thinner walls, lighter weight, and bigger windows yielding more natural light.  The rise of the elevator completed the tools needed for tall buildings, which permitted increased density of commerce and living in the great cities.  Many first-generation skyscrapers are long gone, but this one remains.
One of the leaders of this movement was Daniel H. Burnham of Chicago (1846-1912), my all-time favorite architect (and city planner).  The most revered of my 50,000+ books are about Burnham, his life's work, and the continuing art of his successors.
Burnham was Director of Works of the great World's Columbian Exposition, the 1893 Fair at Chicago.  Throughout his career, he designed everything from homes to whole cities, as in the 1909 Plan of Chicago.  He pioneered the modern architectural practice: while he went out and got business, his design and drafting partners detailed and carried out his visions, many of them large.  They could take on massive projects larger than a traditional small architect's office could.
Buffalo's magnificent old Ellicott Square Building, the oldest on my list, shows the latest modern building technologies of its time, but a Victorian lacework skylight covers a court that harks back to the gilded age.  The designer at Burnham's firm was Charles Atwood.
At its completion, at a cost of $3.5MM (over $100 million today), it was the largest office building in the world: 447,000 square feet and 7 stories high.  It remained the largest for 12 years.  It was also the location of what may have been America's first dedicated motion picture theatre, the Vitascope Theater and Edisonia Hall.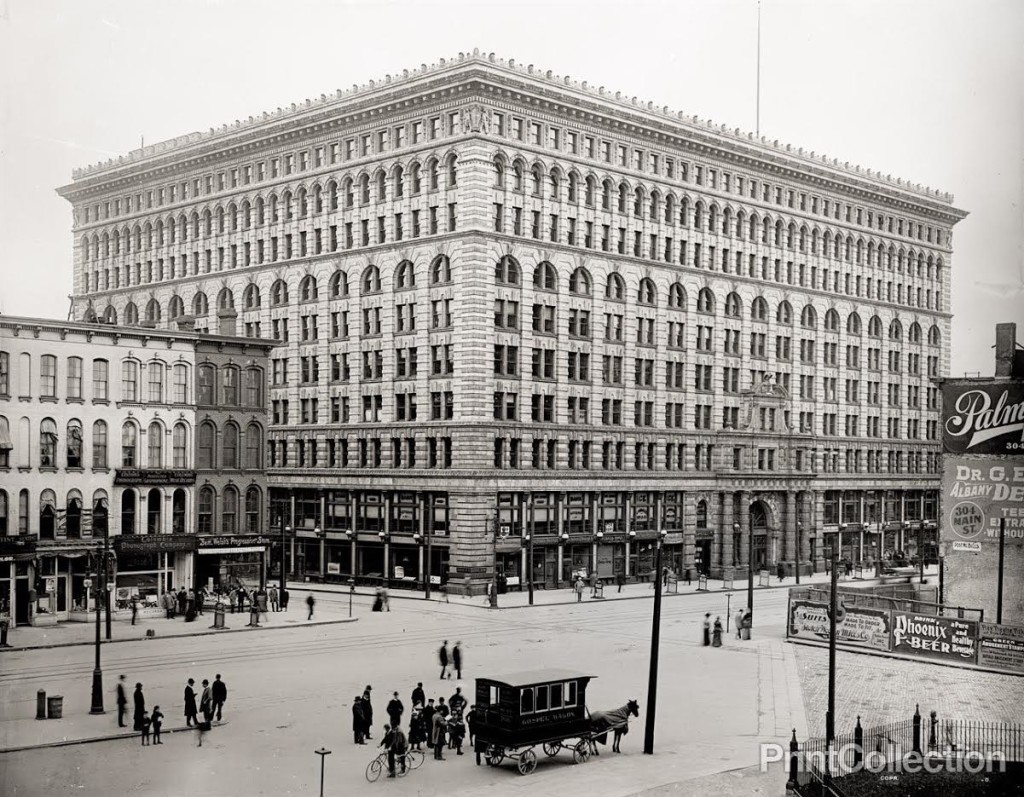 Books (and cities) have been filled with the works of the prodigious Burnham.  Most of his great work was in Chicago and nearby.  All I will do here is tease you with a sample of his work "back east." The later work of Burnham and successors was more heavily classical in design than the Ellicott, with Greek columns abounding.
Burnham was known for his great downtown department stores, including Marshall Field's in Chicago, Filene's in Boston, and a key role in designing Selfridge's in London.  In Philadelphia, he created one of the most famous stores in the world: John Wanamaker's 1910 store, with what is still the largest fully operational pipe organ on earth in the Grand Court (nearby Atlantic City's is larger but broken).
Burnham designed one of the most famous of skyscrapers – renowned even among the many other icons in New York City: the 1902 Flatiron Building, in a part of midtown Manhattan that is booming these days.
Daniel Burnham and company also gave life to the great Union Station in Washington, DC.
2. Pennsylvania Railroad 30th Street Station, Philadelphia, Pennsylvania 1927-33
I think this is one of the great interior public spaces in America.
It was designed by the successor firm to D. H. Burnham and Company, named Graham, Anderson, Probst, and White after the team he left behind.  This firm went on to design many American landmarks, in addition to this great terminal for the Pennsylvania Railroad, which I wrote about (here) as one of the three greatest companies in American history.
Can you imagine being a kid from the Philadelphia area on your first trip to New York City, leaving from here and arriving at the now-demolished great Pennsylvania Station in New York?  Or travel through here enroute from Burnham's Washington Union Station?  From temple to temple to temple!
In Cleveland, Graham, Anderson, Probst, and White designed the great 1930 Terminal Tower complex, one of the earliest true urban mixed-use complexes, including a railroad station, hotel, and department store.  The backers were the amazing Van Sweringen brothers, who created Shaker Heights and almost assembled the long-chased coast-to-coast rail system.  At the time of Terminal Tower's opening, there were only three taller buildings in the world than its 708 feet, all in New York City.  It remained the tallest building in the world outside New York until passed by the Moscow State University in 1953.
In 1930, the firm also designed the then-largest office building in the world (again), Chicago's Merchandise Mart.  But this time it was almost ten times the size of the Ellicott Square Building, at 4 million square feet.  This remains one of the largest buildings ever built.  Intended as a complex of manufacturers' showrooms by then-wholesaler Marshall Field, it was later acquired by the Joseph P. Kennedy family and formed a key part of their fortune.
3. Philadelphia Savings Fund Society (PSFS), Philadelphia, 1932
Here we take a sharp turn from the traditional masses and 19th century details in the preceding buildings.  Into this environment of visions, classical and ornate, came new ideas from Germany about simpler design, inspired by diverse sources including even American grain elevators.
I think this may be the most important but relatively unknown building in the United States.  The Philadelphia Savings Fund Society hired William Lescaze (1896-1969) and George Howe (1886-1955) to design a new skyscraper headquarters in downtown Philadelphia, not far from where the new 30th Street Station described above was being constructed at the same time.
At the request of the bank's President James Wilcox, this was the first International Modern style skyscraper in the world, decades before the most famous came along, including New York's Seagram Building and nearby Lever House.  In the context of the times, it must have been seen as unheard-of and outrageous.  I think it is very beautiful.  In 2000, PSFS was converted into a fine Loews Hotel.
This building actually opened the year before the 30th Street Station – which looks more "modern?"
William Lescaze also designed modernistic homes and interiors.
4. Guardian Building, Detroit, 1928-29
At about the same time architecture was just beginning to move from classical ornament towards the modern, the two seemed to intersect in the highly decorated Art Deco and art moderne forms, always a popular favorite.
Detroit architect Wirt Rowland's (1878-1946) Guardian Building, built for the downtown Union Trust bank in 1929, is one of my unsung favorites outside the more familiar art deco icons such as the Chrysler and Empire State Buildings.  Deep in the heart of a troubled city, this one is a stunner.
Rowland had learned the trade from Albert Kahn, the greatest American architect of industrial buildings, who largely worked for the auto industry.  After leaving Kahn, he also designed the auditorium at the University of Michigan and a model house for Good Housekeeping for the 1933 Chicago's World's Fair.
5. Cincinnati Union Station, 1928-33
Alfred T. Fellheimer (1875-1959) designed Cincinnati's remarkable Union Station, one of the best of the infrequent art deco train stations.  This busy rail nexus connected the northern railroads with the southern ones.  It sat at the head of the Queen and Crescent Route, which ran from this the Queen City to New Orleans, the Crescent City shaped by the Mississippi River.  The dazzling building is now a museum center, worthy of a long visit in this very historic town.  You can tour the beautiful, ornate old offices.
Fellheimer was also the lead designer for architectural firm Reed and Stem on New York's great Grand Central Terminal, as well as railroad stations in Buffalo and in Erie, Pennsylvania, shown here.
6. Nebraska State Capitol, Lincoln, Nebraska 1922-32
Into this mix of art deco and urban monuments, I bring perhaps the greatest monumental architect of them all, Bertram Goodhue (1869-1924).  Much of his work was a monument to God, as he and his former partner Ralph Adams Cram were the designers of many of America's greatest cathedrals and churches.
This is a truly unique work among the 50 state capitols, the only deco skyscraper capitol.  It sits far away from urban centers, even away from Omaha.  It is breath-taking inside and out.
Goodhue's work included the California Tower at Balboa Park in San Diego.
He also designed the Los Angeles Central (Public) Library.
Goodhue designed churches across America, many of them huge.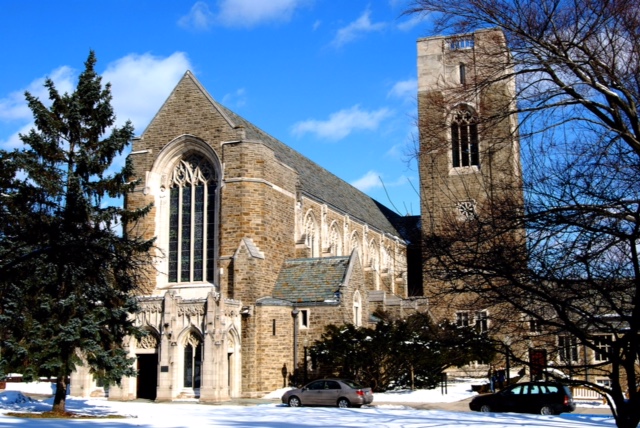 Goodhue created the Chapel at the Military Academy at West Point, New York.
I seek out buildings I can relate to, through other hobbies or connections.  Goodhue designed Rockefeller Chapel at the University of Chicago, which also has a beautiful restored organ and the nation's second largest carillon.  I received my college degree in this truly awesome place.

Here, the sculptor Lee Lawrie has carved Goodhue's image, holding Rockefeller Chapel.
I hope you have enjoyed my little tour of cool buildings, and get the chance to see some of them yourself.  All this architectural history ties to the rest of our lives, from transportation to shopping, from government to libraries and even universities.
It should also reinforce our fascination in seeing America's "second-level" cities, as well as the giants which receive so many tourists.  Buffalo, Cincinnati, Detroit, and other similar cities contain plenty of other beautiful and interesting buildings and historic sites, both more ancient and more modern than those described here.  (More about "signature" and other midsized cities in this blogpost.)
I urge everyone to see and enjoy the incredible diversity of buildings that pervasively surround us.  Hidden design gems can be found right in your own area!  Observing and thinking about all the art forms in our lives, and the real people behind them, inspires the imagination and the heart.  You don't need a certain age or education to love architecture, you just need eyes.
I believe that art, design, and architecture should be high on any thinking person's list of domains to discover.  The more subjects that arouse our curiosity, the geometrically more connections our minds can make.  Connections are at the heart of innovation.
I close with one of my favorite quotes:
Make no little plans. They have no magic to stir men's blood and probably themselves will not be realized. Make big plans; aim high in hope and work, remembering that a noble, logical diagram once recorded will never die, but long after we are gone will be a living thing, asserting itself with ever-growing insistency. Remember that our sons and grandsons are going to do things that would stagger us. Let your watchword be order and your beacon beauty. — Daniel Hudson Burnham
Please comment on this post or let me know about the places and things you discover on life's journey at this post on my blog.
Gary Hoover